WELCOME TO AMA SPORTSMEN'S ASSOCIATION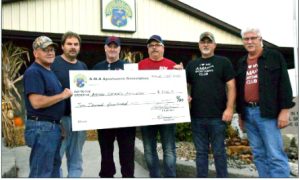 The AMA Sportsmen's Association was able to make a Donation of $2,500.00 dollars to the Malden Fire Department Restoration Fund. The club was pleased to be able to assist them in this worthwhile project.
The last 3-D  Archery shoot had 38 shooters in attendance and everyone had
a good time. Looking forward to next year…
Indoor Air Rifle and Archery at the Club are delayed until the new year.
Executive…
Friday night dinners will now be available only on the FIRST FRIDAY of the Month.
Executive…
                                                  CLUB ANNOUNCEMENT
Ontario moves to stage 3. The club will be following the new conditions as we start to move into the reopening in our area. We are now open to seating inside and outside using social distancing.
The club is open Monday to Wednesday 12 noon to 2pm for lunches, and Saturday noon to closing. Friday dinners are still available and you can eat inside, outside or take home. The bottle donations are greatly appreciated.
                             ANNOUNCEMENT OCTOBER 8, 2020
The Hunter Safety and the PAL certification training programs held at the club have been cancelled until further notice. 
             Board of Directors.
 The club was founded as the Essex County Sportsmen Association in 1930. On June 29, 1964, the Amherstburg Branch received their own Letters Patent and became Amherstburg Malden and Anderdon Sportsmen Association. Its intent was for The Preservation and Propagation of Fish and Game. The Association also a venue for fishermen and hunters to get together to share experiences and preserve and promote their beloved sports met at various establishments.
The original clubhouse was built in 1986. With a vibrant volunteer-minded continually expanding membership has undergone numerous additions and renovations, including an indoor Archery / Air Rifle Range, Outdoor Archery, and 3D course to accommodate the member's needs. The current facilities are fully licensed and will accommodate dinners or receptions up to 250 people. It is located at 468 Lowes Side Road in Amherstburg.
To sign up for a hunters safety course and the P.A.L course, the AMA Sportsmen will still be sponsoring the courses here, but you must contact 519-733-5398 to sign up and pay for the course. We will post the dates we are hosting the course here at the AMA Sportsmen Club.
AMA Longbeards a new chapter of the Canadian Wild Turkey Federation has teamed with the AMA Sportsmen to promote Hunting and getting the youth and women involved in this sport. Conduct conservation projects to help not only Wild Turkeys but other wildlife to flourish in Essex County.